Buddy Art Group Photo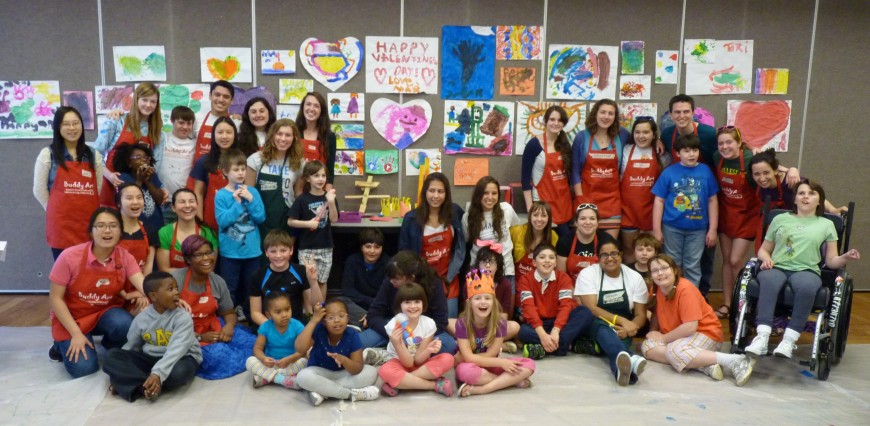 What is Buddy Art?
What is Buddy Art?
Buddy Art is Back!!!
The Fall 2023 session of Buddy Art is scheduled for Saturdays, September 23*, 30 & October 7, 21, 28 from 3:00-4:00 in Rooms A & B at the James City County Recreation Center on Longhill Road. Buddy Art Cancelled 9/23 due to the storm.
Register online at: https://www.visitwcac.net/bart_login.cfm
or get a printable form at: https://visitwcac.net/BuddyArt/REGISTRATION_FORM_BUDDY_ART_print.pdf
We will continue to monitor how Covid-19 cycles, paying close attention to how local schools and William & Mary handle social distancing and closures, but the Fall session is geared up to go!
In the meantime, wear masks if you like, stay safe, take care!!!
Buddy Art is a program designed to provide art activities for children with special needs and/or physical disabilities. The program is free and is sponsored by the Williamsburg Contemporary Art Center (formerly This Century Art Gallery) in cooperation with Campus Buddies, student volunteers from the College of William & Mary and the James City County Parks & Recreation department.
A variety of art activities is offered based on the ages, ability levels, and interests of the participating children. Each child is assigned a volunteer "Buddy" to work with one-on-one, helping the child to explore the materials, and replenishing supplies as needed. Participants may stay in one area or engage in multiple activities during the duration of the class period.
Five or six art stations are typically set up, which include activities like finger-painting, clay work (air-dried clay), collage (cutting or tearing and pasting colored papers and other objects), drawing (crayons; markers; pastels; colored pencils; drawing pencils), stamping (with stamps relating to the theme), and easel painting (with tempera). Special projects might include body-tracings for self-portraits or printmaking projects such as leaf-printing. When weather permits, we play with bubbles and sidewalk chalk on the patio right outside the classroom.
Parents are invited to participate with their child or to simply observe. Buddies are assigned to each child regardless of the parent's participation so that the parent can share the activity without having to be responsible for managing the art materials and set-up.
The Buddy Art program includes Fall & Spring sessions of 4-6 classes each, scheduled during the William & Mary academic terms with students from the College of William & Mary serving as "Buddies".
View the Buddy Art Photo Albums to see how much fun everyone has in the Buddy Art Program!!!
The Buddy Art Program is free to participants and is run by WCAC volunteers. We welcome volunteers for the program! If you're interested, contact the gallery at 757-229-4949 or email Karen Schwartz, Buddy Art Coordinator, at buddy.art.kids@gmail.com. To make a donation toward art supplies, please send your contribution to the Williamsburg Contemporary Art Center, attn: Buddy Art, at the mailing address located on the bottom of all of our web pages. Please be sure to note "Buddy Art" on your check.
Participants are also required to register with JCC Parks & Recreation. You can register at the Rec Center on the first day of class.
Buddy Art appreciates the generous support of donations and grants. Our supporters have included Margaret Pritchard, St. Olaf's Catholic Church, Hudgins-Holiday Chevrolet & Cadillac, Williamsburg Ford, Chesapeake Bank, the Williamsburg Rotary Club, Hip-Hop Legacy (SoHHL) at the College of William & Mary, and Ron & Patricia Rapoport.

Williamsburg Contemporary Art Center is an educational, non-profit organization incorporated under Laws of the Commonwealth of Virginia. All support is tax deductible to the extent allowable by law.